Our cement workshop in Rohožník writes its history since 1971, when it began its construction. The first cloud saw the world's light in 1976. Since then, the plant has undergone many major changes and today it is among the most advanced and most advanced in Central and Eastern Europe.
The plant in Rohožník covers an area of ​​750,000 m² and employs approximately 220 people. The main activity is the production of grey cement, which takes place on a high-end line with a daily capacity of 3 780 tons. The production portfolio of Rohožník also includes the production of white cement, which is the main component of white plaster mixtures. The daily capacity of the white cement production line is 450t.
Cement production is among the energy-intensive industries, and therefore our goal is to continually optimize energy sources. Hotdisk installation in 2005, and then the unique ReduDust process in 2013, greatly contributed to increasing the use of alternative fuels in production.
Their main benefits are savings of traditional raw materials such as coal and petcoke, energy recovery of waste, reduction of mining and consumption of natural limestone and significant reduction of CO2 emissions. ReduDust technology also enables effective recovery of dusts to technical salt and reuse them in the production of cement.
Our company has an integrated ISO 9001: 2000 certified quality management system with a clear goal – to continuously advance the development of employees, products, customer service, manufacturing facilities and continually improve the working environment. In environmental policy, we rely on the principle of sustainable development, pollution monitoring and prevention, the use of alternative raw materials and fuels, and comprehensive environmental care in all segments. Our cement plants have implemented an environmental management system according to ISO 14001: 1996. Air quality impact monitoring is ensured by installing devices designed to continuously measure emissions of dust, sulphur dioxide, nitrogen oxides and volatile organic compounds. In accordance with the legislation, emissions of heavy metals, ammonia, benzene and dioxins are periodically carried out.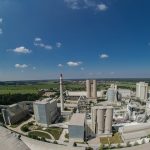 If you see this Google Maps wasn't properly loaded. Please refresh your page 🙂